DON'S BAKERY
118 Main Street
Luxemburg, WI 54217
845-2002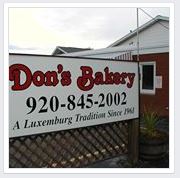 ---
Description
Don's Bakery located on Main Street in Luxemburg. Family owned since 1961,
Don's Bakery specializes in from scratch homemade baked goods. Featuring
Belgian Pies and Kolaches(pronounced Kolochy)which is a Czech
specialty. Homemade bread baked fresh daily! Special orders are
always welcome for parties and events. Open Tuesday through Friday from 4:30 am -4:30 pm and Saturday 4:30 am - noon.
---
DON'S BAKERY Items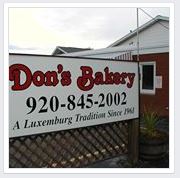 Retail Value: $6.00
Your Price: $3.00
In Stock